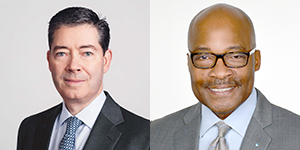 Mike Foley | Brian Little
Mike Foley At Zurich Insurance, we believe diversity and inclusion is vital to our business. We are focused on creating a workplace environment that nurtures our people and our belief in the value that diverse and inclusive teams bring to our organization and the insurance industry. Our support as a Founding Partner of the Diversity & Inclusion Institute is an extension of that focus.
Diversity and inclusion enable us to be at our best. Research has shown time and again that heterogeneous teams are much better equipped to solve complex problems than homogenous teams. Diverse teams offer companies more problem-solving tools, broader thinking, better solutions and better results. Diversity and inclusion also increases employee engagement and improves collaboration, loyalty and retention. Being more inclusive and leveraging the diversity of our workforce will help drive better outcomes, including more engaged employees, better solutions for our customers, and an enhanced brand and reputation in our communities.
Diversity and inclusion is not just the right thing to do—it's the right thing to do for our business.
Brian Little In the end, diversity and inclusion is really about people.
Zurich strives to create a culture where people deliver results, inspire trust and confidence, show compassion and care, and make a difference to those around them. Diversity and inclusion is a purposeful part of that. We want to attract and empower the best people representing the diversity of our customers, communities and other stakeholders and benefit from their different backgrounds, experiences and perspectives for the best business results.
To create this type of culture, we have to embrace all the differences of our employees and support an environment that values everyone, respects them for who they are and what they bring to the organization, and empowers them to solve our customer's most complex problems.
We must allow employees to bring their authentic selves to work, so that they are engaged and able to contribute their best to the success of the company.
As an industry, we have to be more intentional in our efforts to attract, retain and develop diverse talent so we have a workforce that is a bridge to our increasingly diverse marketplace. The insurance industry is actively engaged in a war for talent. Diversity in leadership can help a company secure access to more sources of talent, gain a competitive recruitment advantage, and improve our global relevance.
We look forward to collectively working with the other founding partners through the Diversity & Inclusion Institute to create a more diverse and inclusive culture in insurance. As an industry, we must move quickly from awareness to action to ensure that our industry remains competitive.